Delicious and cinnamon-spiced keto zucchini waffles are gluten-free and perfect for a summer low carb breakfast. They're super kid-friendly while also sugar-free and a fabulous way to use all that garden zucchini.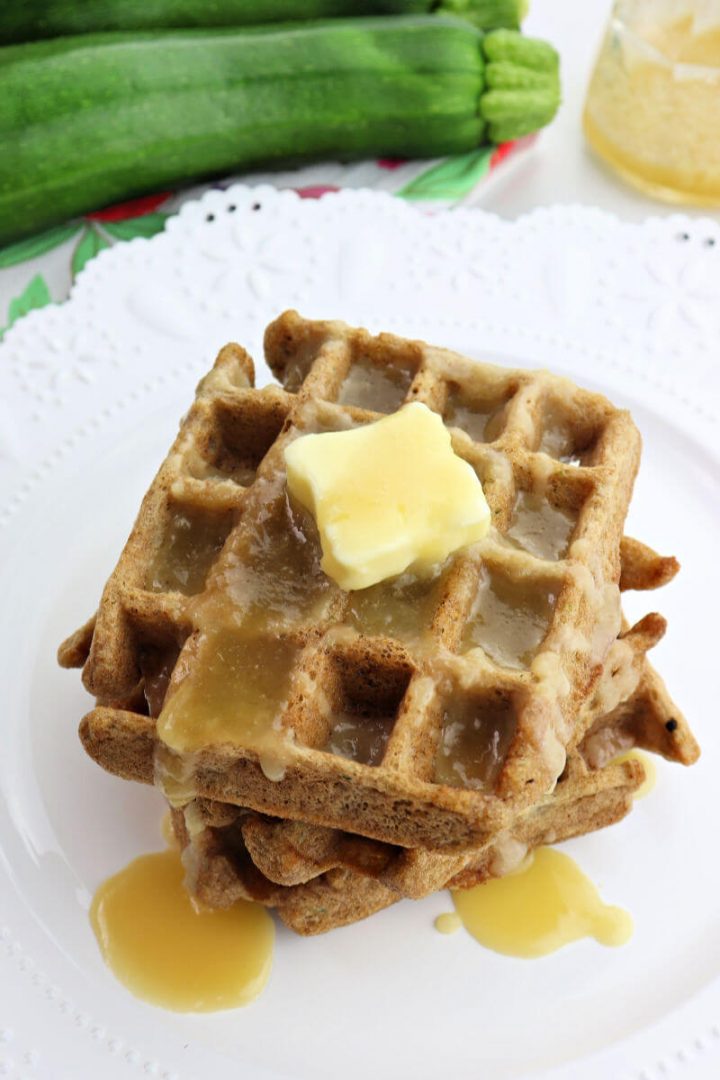 This post may include Amazon links. As an Amazon Associate, I earn from qualifying purchases.
Jump to:
I love this time of year in the garden. This is the time when all your hard work – weeding, watering, bird and rabbit chasing, has paid off.
In fact, it's only the beginning of the summer garden harvest, but so rewarding. Perhaps it's even more so because my kids get so excited about it. My son is all about checking it every morning and announcing how ours compares to Grandpa's and exactly how many cucumbers he thinks will be ready tomorrow.
But in our garden, by far the most plentiful veggie is zucchini!
When I was younger I was not a fan, but it's a plant you can rely on to produce well. Now, I have so many recipes and ways to prepare zucchini, I love it!
It's a fun challenge to see how many delicious ways to prepare it. For example, have you tried a Keto Zucchini Lasagna? That was our dinner last night and oh, so good!
These keto zucchini waffles are perfect for zucchini hesitant kids and adults alike.
Well, let's get to it. What do you need for this recipe?
? Equipment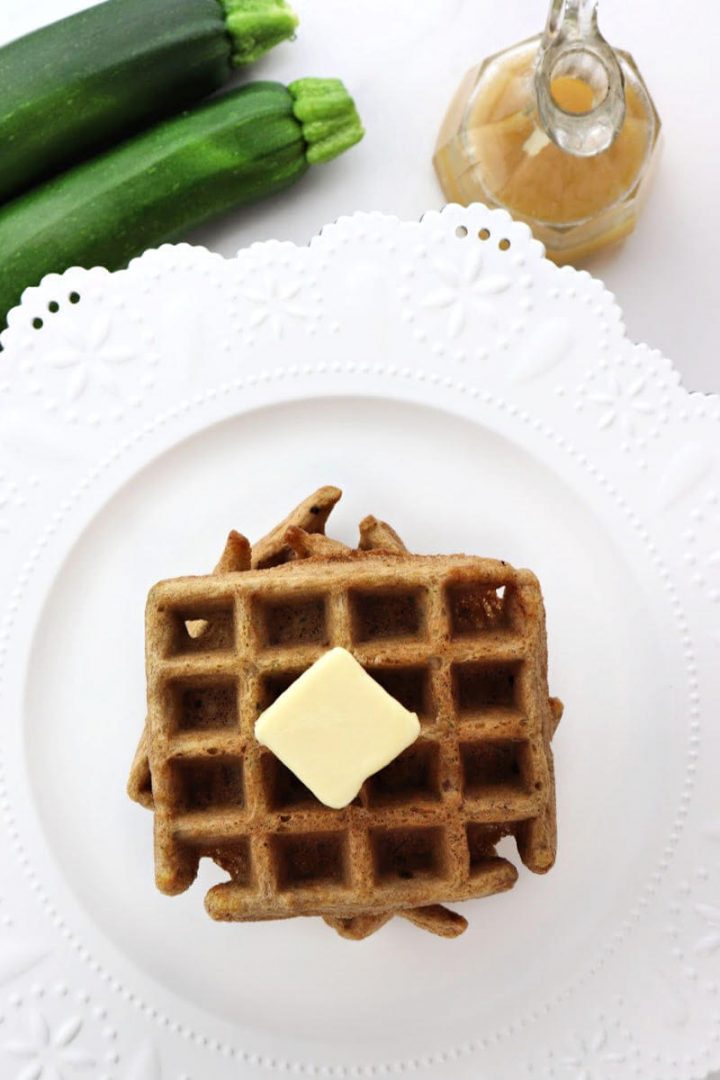 ? Ingredients
finely ground blanched almond flour
baking powder
salt
cinnamon
eggs
vanilla extract
shredded zucchini (water removed or drained)
unsweetened almond milk
Optional sugar-free syrup topping
butter
powdered sweetener
maple extract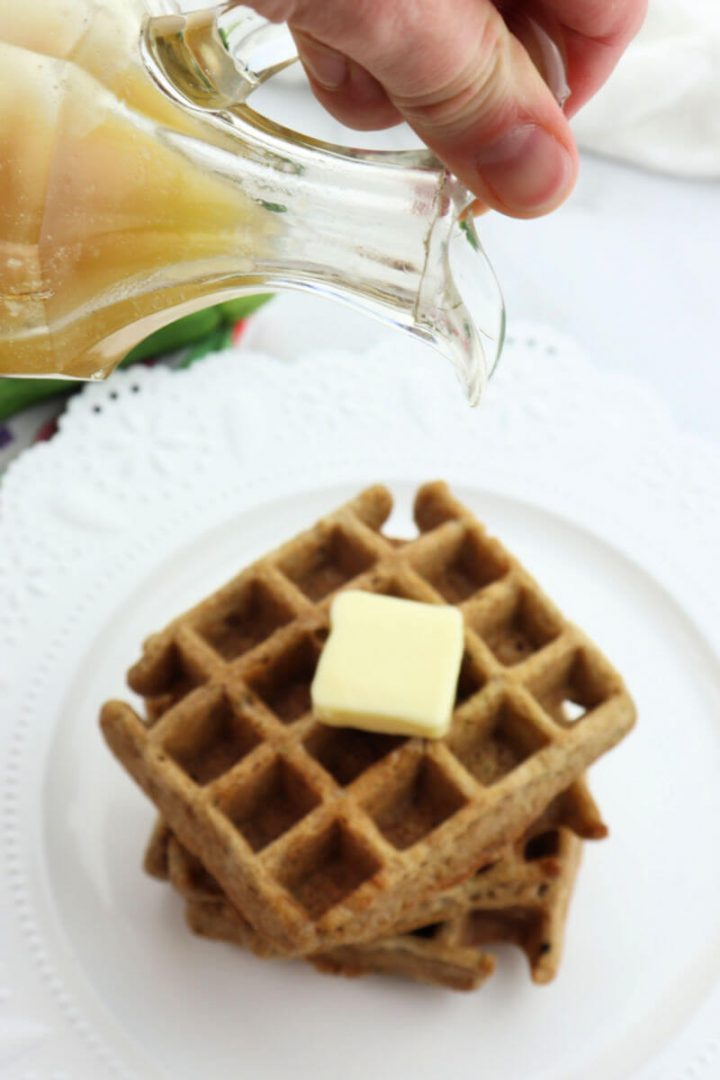 You have to love the super-easy basic ingredients. Even better, have the children measure out the ingredients and stir it up. Instant real-life math lesson. Score.
Add in some fresh summer zucchini from the garden, and we have a winner!
? Top tip
How to drain zucchini
The top tip for keto zucchini waffles is important for the texture and turnout of the waffle.
Zucchini is made mostly of water, and when full of liquid, is difficult to work in a keto baked good. The trick is to drain or squish out all the excess water before putting in the keto zucchini bread batter.
There are several ways to do this, but my preferred method is a combination of two. First, I like to shred the zucchini then put it in a colander with small holes. Balance the colander on a bowl to catch the extra liquid.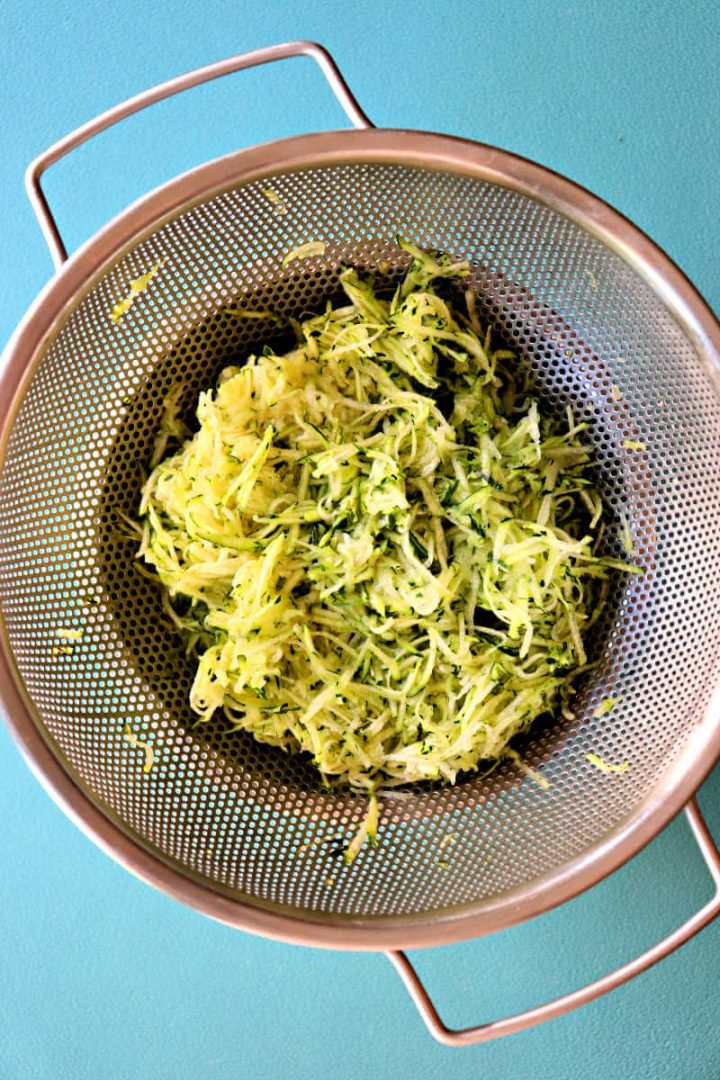 Second, press the zucchini down into the colander to let the liquid drain out. Then let it sit awhile to let more trickle out while you prepare the batter. Sprinkle a bit of salt on it to release even more.
When about ready to put the zucchini in the recipe, press it down and squeeze out any remaining liquid. Perfect!
Just look at all the liquid you can get quickly out of one small zucchini: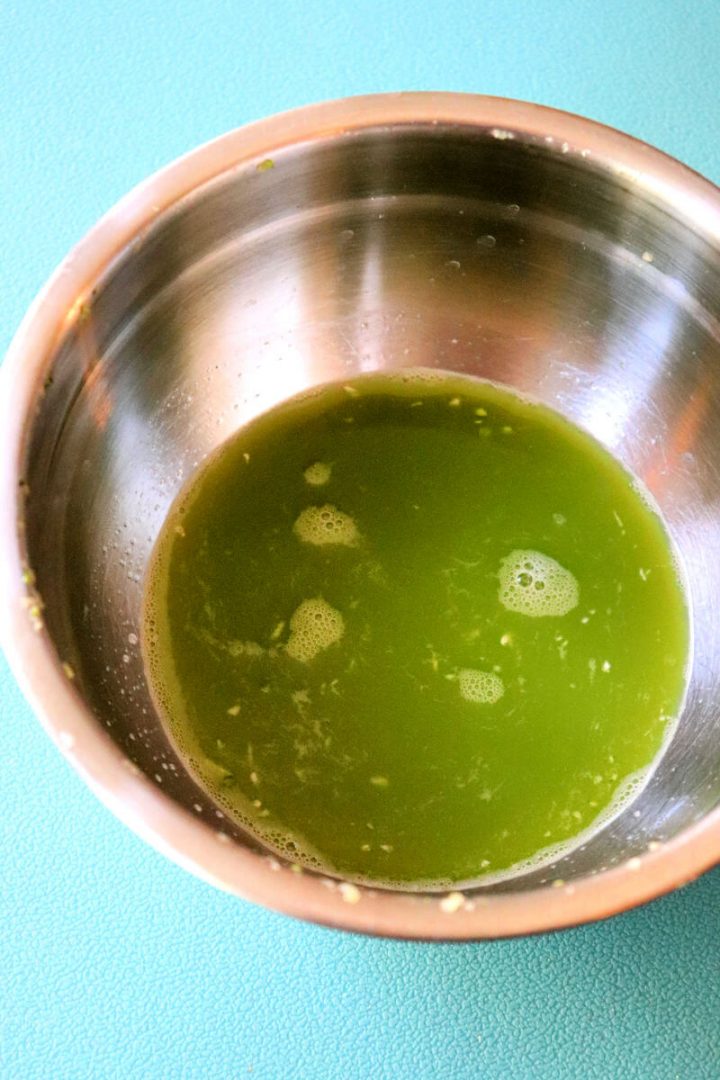 Also, it's possible to do this same process by wringing it out in a tea towel. The towel will work like the colander if you don't own a good one and drain the zucchini just as well. Personally, I prefer the colander simply because it's easier to clean up.
? Instructions
How to make keto zucchini waffles
First, get out all the ingredients and prepare the zucchini.
It's important, especially in many gluten-free recipes, to remove as much water as you can from the zucchini. Review my top tip above on how to drain or remove excess water from grated zucchini.
Next, decide if you want to use a blender or mixer. Personally, I like using a high-speed blender. I've gotten to the point I use it more than my mixer as I have it out on the counter at all times. It's easy to clean and quickly blends up the wet ingredients. However, a mixer works also.
Start with a medium-sized bowl. Then, whisk together the almond flour, baking soda, salt, and cinnamon. Set it aside for the moment.
Next, put the eggs, vanilla, sweetener, and almond milk in a mixing bowl or blender. Blend it for 30 to 45 seconds or mix until everything is thoroughly combined.
After that, pour the wet mixture into the dry ingredients and stir it all together well. Add in the drained zucchini and use a spatula to incorporate it evenly into the waffle batter.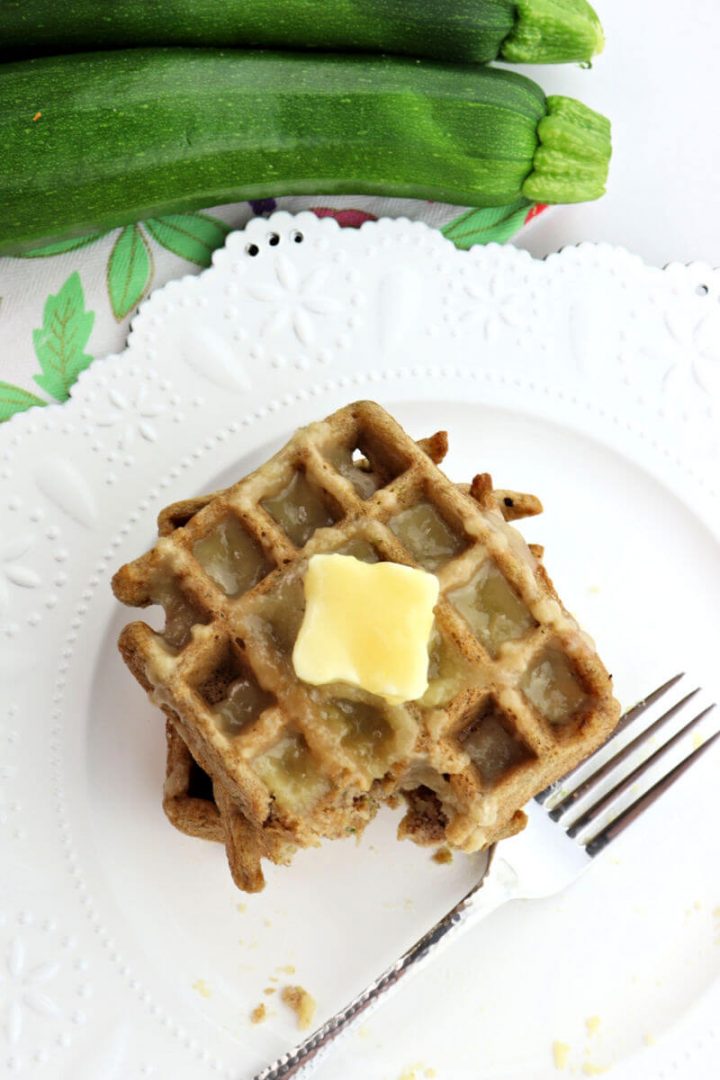 ⏲️ Baking time
How to cook keto zucchini waffles
Now it's time to get ready to cook the waffles!
Use whatever kind of waffle maker you have. I have an older version of this Krups Belgian Waffle Maker I like to use. Mine does not have removable plates, but the new one makes it that much easier to clean.
They can also be made on a mini waffle maker, you just have to make one at a time! I love the mini for chaffles (my favorite – chaffle recipes, garlic parmesan) but when I want to make 8 and not spend all day, I use the larger one.
Preheat whichever maker you'd like.
Then, cook the waffles according to the waffle maker instructions.
Generally, spray the maker with avocado or other oil. My waffle maker uses a rounded 1/4 cup of batter and cooks for four minutes.
The recipe will make eight waffles.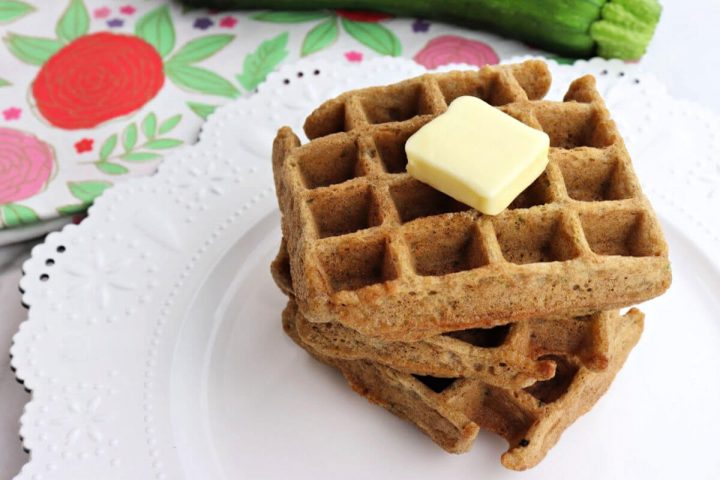 Enjoy it for breakfast, a low carb snack, or a sugar-free dessert! Yum.
? How to store keto zucchini waffles
Once you make the keto zucchini waffles, how do you store them if not eaten right away?
As with most gluten-free baked goods, keto zucchini waffles are best kept in the refrigerator.
Store them in an air-tight container in the refrigerator. It will be good for up to about a week. I recently found these reusable silicone food bags that work great for storage in the fridge or freezer
?️ How to freeze them
To be honest, I prefer to freeze waffles when I have a large batch.
Simply place them in a freezer-proof, air-tight container. Then, they last longer, and you can get one out for you or three out for the kids, any time you'd like.
It's convenient and quick. I even rewarm them by popping them in the toaster oven like I did frozen waffles as a kid. These are a lot better though.
Generally, use frozen items within a month or up to two at the most. If the food item's in the freezer over two months and not eaten, it may be time to purge and toss it in the trash.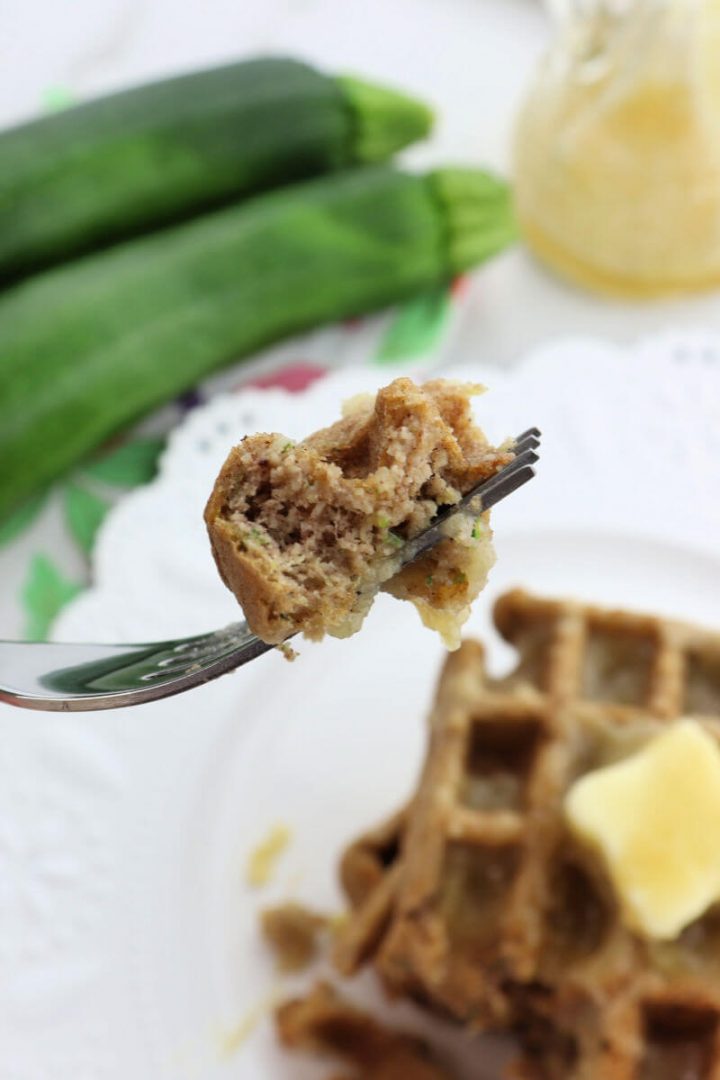 ? Toppings
Toppings for keto zucchini waffles
There are so many options to top a keto waffle. It can be simple or elaborate as you like, but know there are delicious sugar-free syrups and out of the box ideas.
First, if you want a store-bought option, there are a couple I've used and like. Choc Zero makes some good flavored syrups, chocolate, caramel, or maple. My daughter also likes Lakanto Maple Flavored Syrup, but beware, it is much thinner than a traditional syrup.
Second, my go-to quick and easy syrup when I have nothing else on hand is homemade with just three ingredients. Butter, sweetener, and maple extract.
Simply melt four tablespoons of butter in a small saucepan over medium heat. Then whisk in the powdered sweetener for 2-3 minutes until bubbly and slightly thickened.
Lastly, remove the pan from the heat and stir in the maple extract. Voílà! That's it! Pour it over a waffle immediately or store in the refrigerator.
Once cooled, it will need to be reheated and stirred to use again.
Third option, fruit and cream! Another fabulous topping on keto waffles or pancakes is fresh whipped cream and berries. Or, make a simple syrup with berries and a little powdered sweetener.
Experiment, and enjoy!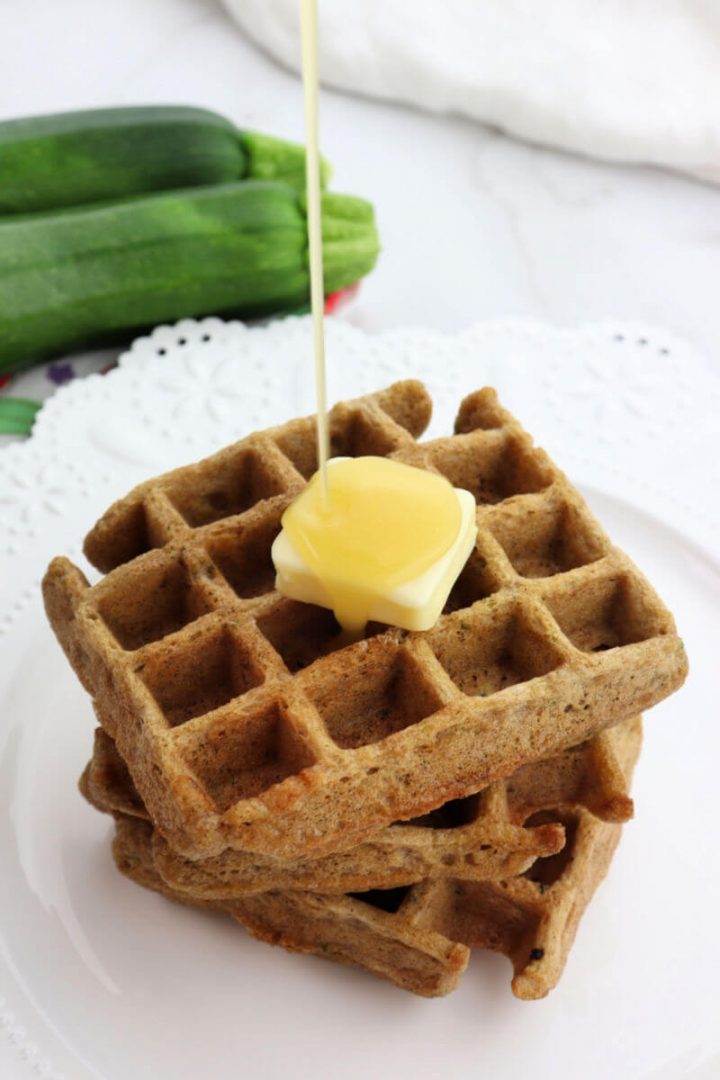 ? Keto garden veggies
Now is the time to experiment with keto-friendly veggies. Do you need some suggestions on what to plant? Read more about what we plant in What To Plant In Your Keto Vegetable Garden.
Personally, I love having fresh cucumbers, zucchini, lettuce, and spinach. You can even get creative with eggplant in one of my favorite traditional Georgian recipes, eggplant with walnuts.
What are your favorite veggies to experiment with? Other than the obvious winner, zucchini?
This year we are sheltering at home so I've had more time than usual to try out new things. I've found out even more lately, veggies can be keto-friendly and taste good too. Give the keto zucchini waffles a try.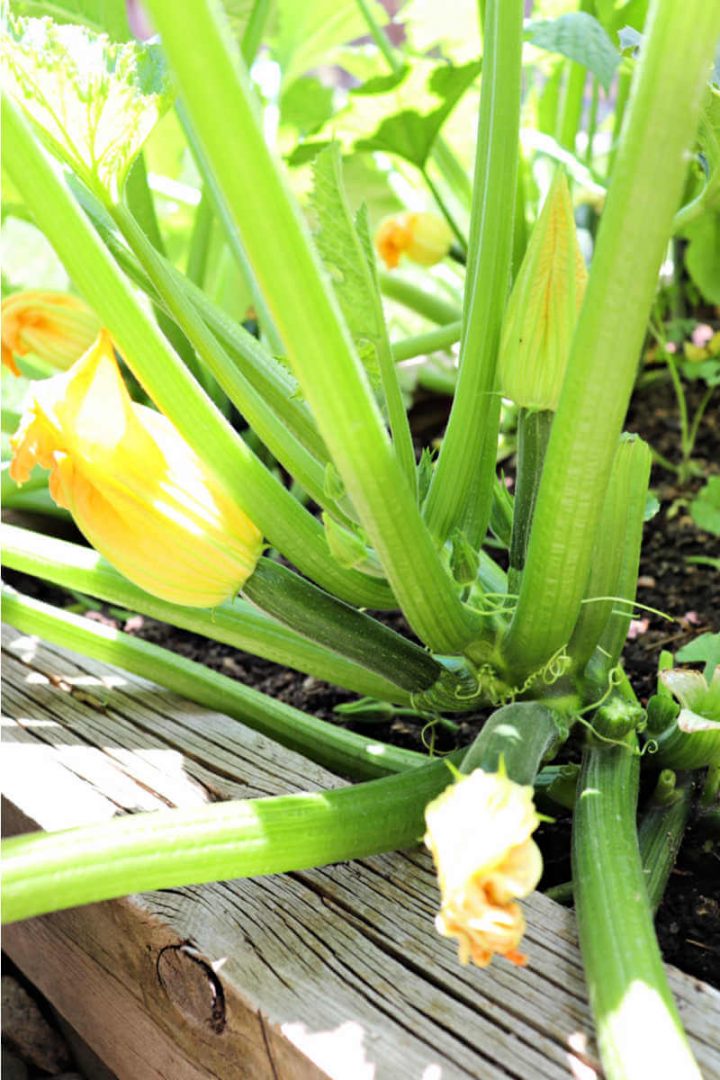 Enjoy!
? Related recipes
Or, if you're not in the mood to bake, check out how I discovered a local keto bakery! Psst – they do mail orders too.
Pin the recipe here: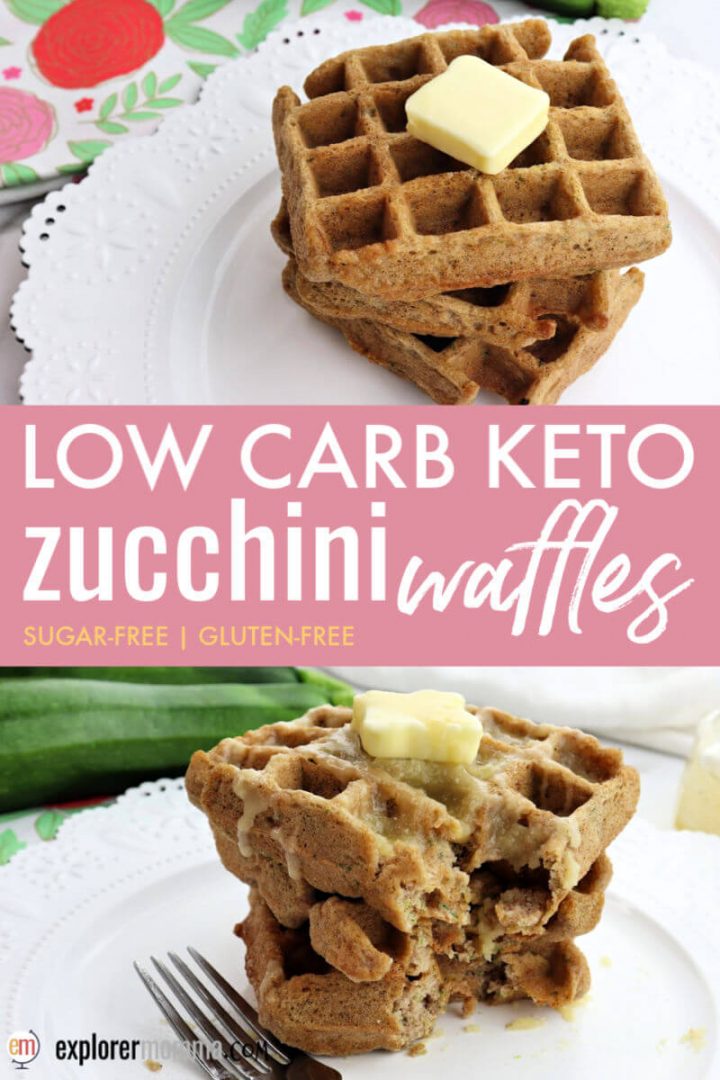 Tag me in your recipe pics on Instagram @explorermomma.
If you LOVE this recipe please consider giving it a five-star rating in the review area below!
📖 Recipe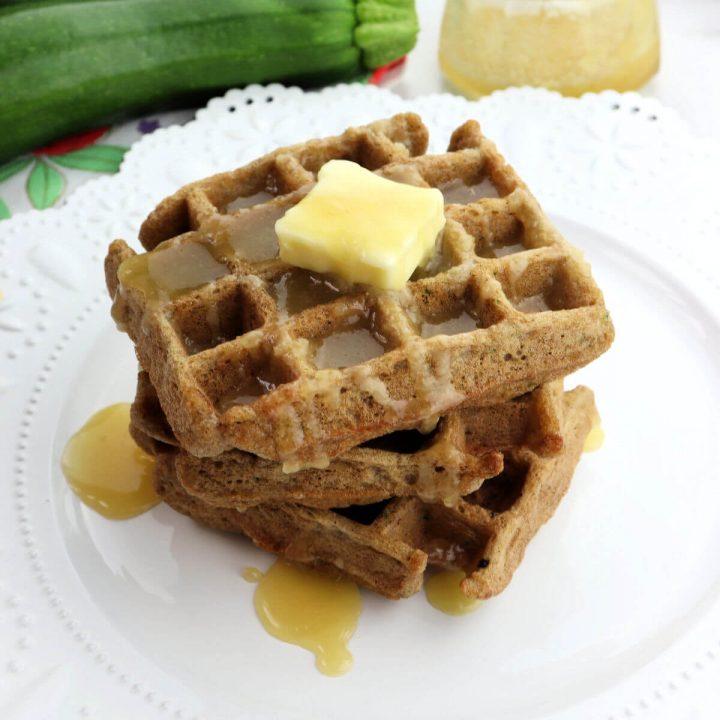 Keto Zucchini Waffles
Super delicious keto zucchini waffles are easy to make and a fun different cinnamon-flavored waffle. The perfect low carb breakfast for summer fun.
Ingredients
1 1/2 cups finely-ground blanched almond flour
1/2 tsp baking soda
1/4 tsp salt
1 tsp cinnamon
4 eggs
1 tsp vanilla extract
1/2 cup shredded zucchini (water removed)
1/4 cup powdered sweetener
1/4 cup unsweetened almond milk
Easy optional "maple" syrup
4 tbsp butter
3 tbsp powdered sweetener
1/2 tsp maple flavoring
Instructions
Whisk together the almond flour, baking soda, salt, and cinnamon in a medium-sized bowl. Set aside.
Put the eggs, vanilla, sweetener, and almond milk in a mixing bowl or blender. Blend or mix until thoroughly combined.
Pour the wet ingredients into the dry. Mix well.
Add in the drained zucchini and use a spatula to incorporate it evenly into the waffle batter.
Cook the waffles according to the waffle maker instructions. Generally, spray the maker with avocado or other oil then use a rounded 1/4 cup of batter and cook for four minutes. The recipe will make eight waffles.
Optional "Maple" Syrup Topping
Melt the butter in a small saucepan over medium heat.
Whisk in the powdered sweetener and stir for 2-3 minutes until bubbly and slightly thickened.
Remove from the heat and stir in maple extract.
Pour directly over waffle. When it cools, it can solidify so simply reheat as needed.
Nutrition Information:
Yield:

8
Serving Size:

1
Amount Per Serving:
Calories:

130
Total Fat:

10g
Saturated Fat:

1g
Trans Fat:

0g
Unsaturated Fat:

7g
Cholesterol:

93mg
Sodium:

144mg
Carbohydrates:

4g
Net Carbohydrates:

4g
Fiber:

2g
Sugar:

1g
Protein:

6g
*Nutrition facts per MyFitnessPal.com. For most accurate facts, calculate your own with the exact ingredients you use in the recipe.
Nutrition Disclaimer
Please be aware I am not a medical specialist or nutritional professional. On this blog, I share recipes and what works for me. Please do not take anything on this blog as medical advice and always consult with your doctor before starting any diet or exercise program.
I use MyFitnessPal.com to calculate nutrition facts as a courtesy to my readers, and I remove erythritol from the final carb count and net carb count because does not affect my own blood glucose levels.
This is as accurate as possible, but it's best to independently calculate nutritional information on your own with the specific ingredients you use. I expressly disclaim any and all liability of any kind with respect to any act or omission wholly or in part in reliance on anything contained in this website.